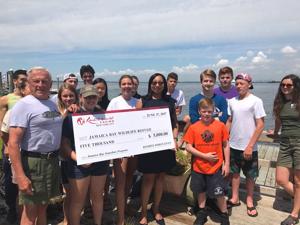 Resorts World Casino on Tuesday donated $5,000 to the Jamaica Bay Guardian Program, an organization that seeks to educate people on the importance of the South Queens estuary.
The group is led by Don Riepe, left, seen here with young nature enthusiasts. Riepe is also the program director for the American Littoral Society's northeast chapter and has watched over Jamaica Bay for decades, leading nature walks and cleanups around the area.
Since opening in 2011, Resorts World has teamed up with Riepe for cleanups on the bay and has hosted photo exhibits focusing on the wildlife spotted there.
Source: Queens Chronicle